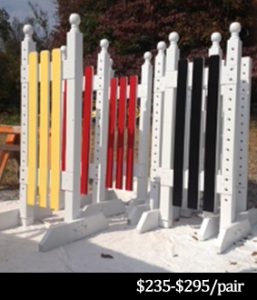 Working around random misplaced poles and wing standard horse jumps can slow down the training process and create hazards that cause injury. The last thing you want is to have a horse and rider trip over stray equipment. However, poles and standards must remain accessible. The solution to many jump facility storage problems is the pole wall caddy.
Quick & Convenient
The wall caddy attaches to any indoor wall or outdoor arena fence and holds up to 15 poles. When multiple caddies are strategically placed around the ring, trainers and riders can enjoy the convenience of making jump changes quickly and easily. Gone are the days of kicking poles out of the way, dragging them across the arena, and time wasted changing jump heights. Whether for kid's horse jumps or schooling standards, the pole caddy is ready to serve at a moment's notice.
Competition Ready
During a competition, the convenience of the wall caddy comes into sharp relief. It allows quick course changes and less time spent between classes making adjustments. Competitors appreciate seamless transitions from one event to another, so their nerves have less time to develop, and their horses stay primed. Event organizers can expect reviews when they demonstrate efficient and effective course management with innovative equipment storage solutions.