Buy Horse Jump Gates and Horse Jump Poles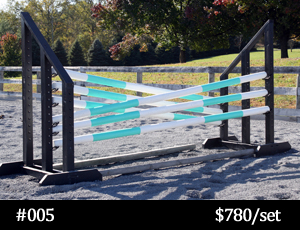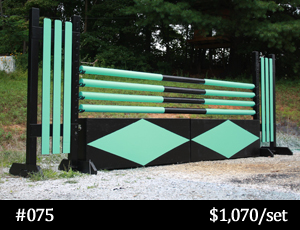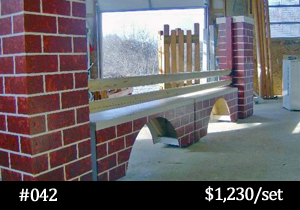 Prices include entire jump set as pictured.
Due to the differences in shipping rates based on your location we do not offer online ordering.
Equestrian lovers of all ages have benefited from our horse jump gates in Washington, VA, and we have no doubt you will too. We're a family business that's been an industry-leader for more than 15 years, and in that time we've built a reputation for being one of the best. Our superior jumps, equipment, service, and standards have earned us repeat customers and a reputation in the local community. They're made from hand-picked wood with a classic look and sold by fellow equestrians and horse lovers. Our delivery is fast and performed carefully and correctly.
Our horse jump poles are designed for customers of all skill levels. Trainers, competitors, and recreational riders alike will love trying out our colorful jumps. We even sell models made for kids, ponies, and small horses. They're available in all different colors and styles, so you can enjoy the aesthetic and make your arena beautiful. We encourage you to explore our inventory and use your jumps every day; that's what they were made for.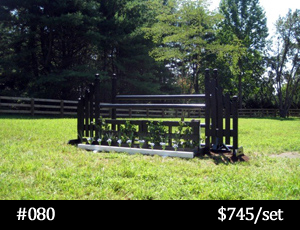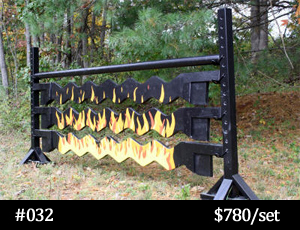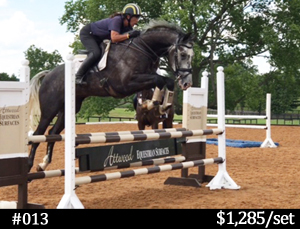 Prices include entire jump set as pictured.

---
At our business, we believe that wood is a much better material than vinyl, and our goal is to only sell the best for our valued patrons. We've received tons of calls from customers every year who say they will never buy vinyl jumps again after seeing what ours can do. Our jumps don't need sandbags to stay up, and they can be repaired and painted when necessary.
Due to the difference in weight, horses tend to step on vinyl jumps or knock them out of cups; sometimes they even end up getting plastic stuck in their legs. This doesn't happen with wood. It holds up much better and looks attractive too. You never have to worry about the colors fading or having to clutter up your arena with ugly sandbags. Wood isn't just new equipment; it's an investment.
If you're shopping on a budget, we can send you jumps that have been partially assembled or unpainted to save you money. The latter offers you a fun opportunity to customize your jump and make it uniquely yours. In fact, repainting is recommended every 5 years so that it can stay in good shape, so you'll have plenty of opportunities to change it up.
Order Details
We're proud to offer packages for those who want the whole ensemble. They include beginner, intermediate, hunter, and jumper choices. All of them can be bought unpainted and are customizable. These can include 6' standards and 12' horse jump poles if you like. All you have to do is email or call us to place your order.
Our jumps are made in Virginia and sold across the United States. Delivery is fast and honest, with the poles arriving packaged and in perfect shape—no assembly required. If you need help with an order, don't hesitate to get in touch with us. Our staff members are always happy to answer even the smallest of questions. Please note that due to the differences in shipping rates based on different locations, we do not offer online ordering
Contact us to place your order for new horse jump gates. Our company is located in Washington, Virginia, and we serve customers throughout the United States.