Frequently Asked Questions
Jumps for Horses
Where is your facility?
Our small, family business encompasses a 6600 sq. ft. facility located at the base of the Blue Ridge Mountain chain in the middle of Virginia's beautiful horse country.  Old Rag Mountain looms in the distance and the world famous Inn of Little Washington is within walking distance!  It's an eclectic sort of community with niche businesses abounding. From world famous Copper Fox Distillery, to Virginia Chutney Co., multiple breweries, handmade soaps and wool  products, antiques and art galleries….not to mention agricultural excellence! Sustainable foods, Farm-to-Table programs, vegetable cooperatives, awareness of best water and soil conservation practices. There is a lot of history here and a lot of conscious living.
Do you have a recycling program or promote "green" business practices?
We recycle all our wood scraps. We use a combination of new and recycled shipping materials to prepare our jumps for transport. And the pallets used in shipping are also reclaimed and recycled. We make every effort to be Earth conscious.
How can I save money on my order?
Partial assembly:  You have the option to purchase your jumps without leg assembly and then attach the legs upon delivery. This is particularly applicable to the horse jump standards because they take up a great deal of space on the shipment. We'll include a complete guide to successfully attaching the legs and only minimal tools are required. If you have the ability to attach the legs yourself (or know someone who does!) you can save a lot on shipping.
Unpainted horse jumps: Purchasing unpainted jumps saves you money.  At least you can enjoy the peace of mind knowing that the standards are well built and professional looking.  By painting your own jumps, you can really customize the appearance of your ring.  Make painting your jumps a project for youngsters or pony clubbers at your barn!
"2nd quality" horse jump poles: We usually have less-than-perfect new poles available at discount.  As mentioned on our poles page, only the best poles are used in our packages and orders.
Can I lease horse jumps and courses from you?
We do offer equipment for lease for shows, training and personal use.  Please contact us with to learn more.
Can I have my farm logo on my horse jumps?
Farm logos and images are very popular!  We offer these productions on our solid panel standards, planks and panel gates as well as other custom options.  It's a great way to showcase your farm or stable and to add a measure of customized elegance.  Images can be applied to one or both sides.  Our images are produced by a professional vinyl graphics company.  We offer a free farm plank with your purchase of $6,000 or more in products or packages!
How should I store my horse jumps?
It is recommended and just plain smart to store your horse jumps inside during long periods of non-use.  Depending on your location this may be summer or winter.  With indoor storage, you will enjoy longer life and less maintenance in the long run. To keep your horse jumps in good condition, make sure your poles, gates and planks are hanging in the jump cups at all times or leaning up. It's recommended that you repaint your jumps every 5 years or as needed. This will keep them looking good and promote lasting life.
Prices include entire jump set as pictured.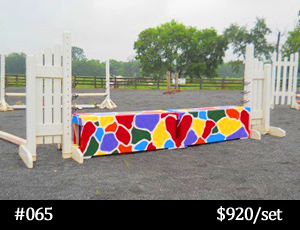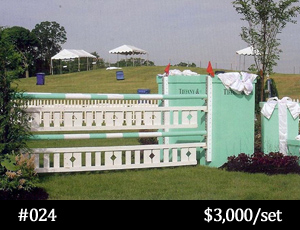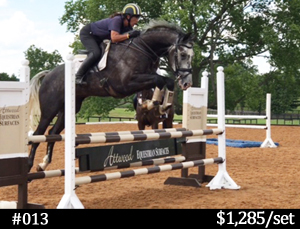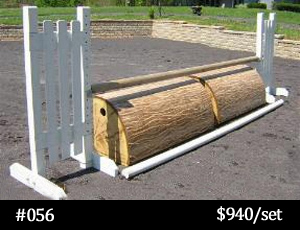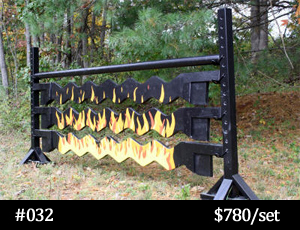 ---
Prices include entire jump set as pictured.
Prices subject to change without notice.