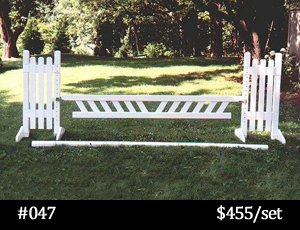 Horse Jump Gates in Washington, VA
At Old Dominion Jumps, we can customize your wooden horse jump gates to serve the unique needs of your riders and sponsors. We believe that sturdy, classic wood is the best material for building horse jumps, and many riders agree.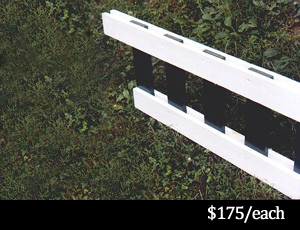 Prices include entire jump set as pictured.
---
Prices include entire jump set as pictured.
Prices subject to change without notice.
Whether you're an experienced rider or new to competitive horse riding, you can find the high-quality horse jump gates you need to excel. Get solid wood custom horse jump gates in Washington, VA, from our reputable and well-known company. We have extensive experience in creating sturdy and long-lasting jump gates that are perfect for practice as well as competitions. Enjoy a more professional look and better performance by making the change from vinyl gates to solid wood.
Benefits of Solid Wood Horse Jumps
The most experienced and successful equestrians know that solid wood jump gates are far superior to flimsy vinyl gates. They're sturdier, longer lasting, and safer for riders as well as their horses. Unlike vinyl gates, wooden gates do not require unsightly sandbags to weigh them down. They also provide a safer experience for your horse, because there is no chance of plastic shards harming the horse.
In addition to aesthetics and safety, wooden gates are much more affordable than vinyl. They last longer and can be repaired easier, and it's easy to refresh any gate with a fresh coat of paint. They add appeal and style to any competition. Let our experienced staff help you choose the perfect gates to suit your needs.
Custom Gates by an Experienced Company
Having high-quality and great-looking horse jump gates is vital to your success as a rider on competition ground, but it's also important to make sure people know about your company. By ordering our custom wood gates, you're able to advertise your company name in a vivid and memorable way. Whether you run large national events or smaller local ones, you can make sure everyone in attendance knows which company is supporting the show. Reach out to our friendly and attentive staff to discuss gate sizes, wood options, and customization
Contact us to order one of our top quality horse jump gates. We're proud to serve customers in Washington, Virginia, as well as the surrounding areas.
---