Due to the differences in shipping rates based on your location we do not offer online ordering.
Pickups are welcome.  We also allow customers to arrange their own commercial shipping.

Give us a call at 540-987-8412 to place your order or simply email.
We understand the importance of packing, wrapping and placement of our custom horse jumps prior to shipment.  It is a time consuming process but it is vital to ensure that all products arrive in good shape and without damage!
Because our products arrive assembled, we take extreme care to ensure they are protected during transport and delivered in a safe and timely manner.
Prior to shipment, each piece is wrapped, labeled with your contact information, and hand loaded. We strive to ensure that a non-stop delivery is made to your destination, meaning no transferring of loads during transport.
We accommodate shipments all over the continental United States as well as abroad.  All customs documentation is arranged prior to load out.
For more information on ordering new and used custom horse jumps contact us today!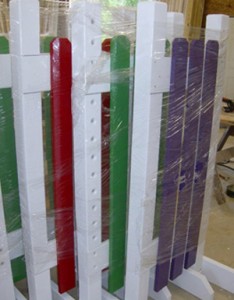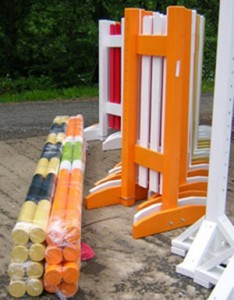 If you plan to pick up your jumps, please bring protective materials such as shipping or horse blankets with you.  Larger trailers provide more room and can cut down on damage from over loading and stacking of products.  We want your jumps to arrive in good condition.
While we cannot control the cost of shipping, we do our very best to protect your investment while en route!
The safe, efficient delivery of your order is our goal!

---