Stand Out With Custom Horse Jumps
Do you want your riders and your business to really stand out at your next equestrian competition? You need custom horse jumps. Custom jumps are one of the best ways to advertise your business and make a great first impression.
Custom jumps allow you a level of sophistication that standard jumps simply don't. Standard jumps are all the same, but custom jumps can be decorated with your logo, school colors, or other preferred colors and designs. Here at Old Dominion Jumps, we have more than 15 years of experience designing custom wooden horse jumps for some of the nation's top equestrians.
Our custom horse jumps are available in a range of colors and designs that far surpasses those available on standard jumps. We've designed custom jumps for Wake Forest, the University of Richmond, and more. Custom jumps are also a good way to provide advertising for your business or your sponsors, and attract additional sponsorship to your events.
Don't like any of the custom jump designs pictured in our online gallery? That's okay! Contact us to discuss your preferences. The biggest advantage of custom jumps is that you can have any style, design, or colors you want.
Our custom horse jumps are made with real wood, so you won't have to deal with the inconveniences and even dangers of more expensive vinyl jumps. Horses respect real wood jumps, and they're easier to care for and repair. They last longer, too. You won't have to worry about jumps splintering, lodging shards of vinyl in your horses' legs. Neither will you have to use ugly sandbags to keep our wooden jumps from blowing over in a strong breeze.
Sturdy custom wooden jumps stay put on their own. They can be repainted, making it easy to change your sponsorship. And many of our jumps are made with recycled wood, so they're the sustainable option. On a budget? We'll work with you to meet your individual needs without breaking the bank.
When you need horse jumps, don't go generic. You need jumps that will allow you to make an impression on spectators and sponsors alike. Call Old Dominion Jumps now and order your own custom wooden horse jumps.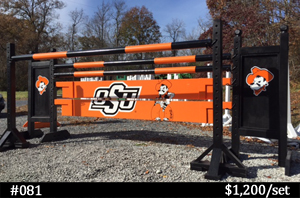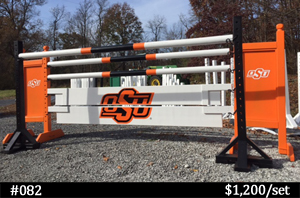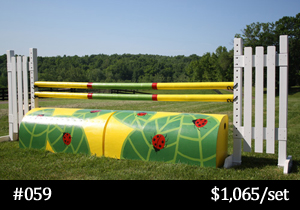 Some of our recent new products!
Prices include entire jump set as pictured.
Prices include entire jump set as pictured.
Prices subject to change without notice.