Wooden Horse Jumps are Superior
Wood Horse Jumps
Give your horses something stylish and sturdy to jump over. Our wood horse jumps in Washington, VA, are made from hand-selected wood to create a classic appearance. Not only that, they are durable, affordable, and completely customizable. Why settle for vinyl jumps that require sandbags because they blow over in the wind? For the finest-quality horse jumps, you can't go wrong when you depend on our company.
Appealing & Durable Wooden Horse Jumps
Believe us. Your horse knows the difference between a vinyl jump and a wooden one. Vinyl jumps become brittle, and they can even shatter. Some horse owners have seen their horses get cut badly from these types of jumps – even requiring surgery. When this happens, your horse will be reluctant to jump again. This makes it unsafe for your horse and for you.
At the same time, when the vinyl jump breaks or shows signs of wear, it's impossible to fix. You can't simply paint them like wood horse jumps. We build wood jumps to last, and we proudly customize the jump to suit your needs. These are long-lasting jumps that add appeal to any arena or farm.
At Old Dominion, we have been building show jumps for more than 15 years and we are frequently asked whether wooden horse jumps are better than plastic vinyl jumps. Our answer to you is "don't buy vinyl!" Every year, we receive many calls from new customers who say "I will never buy vinyl jumps again!" They don't need to explain why because we already know.  DON'T SAND BAG YOUR ARENA!!
Vinyl jumps look cheap, they look plastic and they are expensive. For example would you rather look at a vinyl sided house or a wooden sided house?  Honestly which looks better?  We know the answer to this question.  When it comes to appearance, wood is premium.  For everyday use, it is common knowledge among most professionals.
Vinyl jumps always require the assistance of ugly sandbags, because they typically blow over in moderate winds.
Eventually vinyl jumps will break. When they do, you can't fix them and you can't paint them like wooden horse jumps.
Perhaps the biggest drawback is that horses simply don't respect vinyl jumps. Because of the weight comparison of wood, horses habitually step on them when used as ground lines and knock them out of the cups when used as jump rails. We have had 2 customers over the years who have had to have pieces of plastic removed from their horses' legs.
Testimonials…
"The problem with vinyl jumps is they do not last as long as wooden jumps. They blow over and the use of sandbags is always necessary. The colors fade nor are they fixable when they break. They considerably diminish the look of your ring and the message you are sending about your facility.
Another huge detriment is that horses don't respect plastic like they do wood. For obvious reasons this is due to the difference in weight. They tend to carelessly step on the ground lines and jump through the poles when they're are set up in cups."
Christopher Stevenson
Head rider and trainer for GEM Show Stables
West Palm Beach Florida
"I had moved my Show barn to a different location. I decided against bringing my own wooden jump course as they already had a ring full of vinyl jumps. During a lesson, one student's horse crashed through a ground-line pole. The horse was cut pretty badly but I was confident that the wound would heal OK. Four days later we had to have our vet out to surgically remove plastic shards lodged in the posterior of the pastern. I wish I never let go of my wooden jumps!"
Mary Caligaro
Head Trainer
Quintessential Show Stables
Millbrook New York
Creative Designs & Customizable Options
Get creative when you need a horse jump. It doesn't have to be a standard jump unless you want it that way. Ours can be personalized to suit your exact needs. Choose the color, design, and anything else, and we'll make your horse jump the way you want it. Take advantage of our package discounts and sale items too!
Contact us for wood horse jumps that rise about the rest. We proudly serve clients in Washington, VA, and the surrounding areas.
---
Prices include entire jump set as pictured.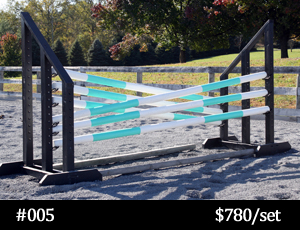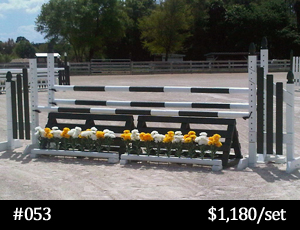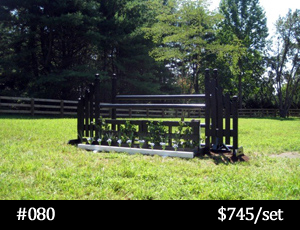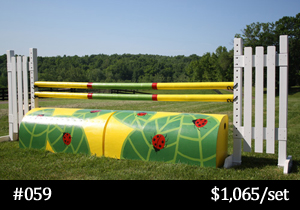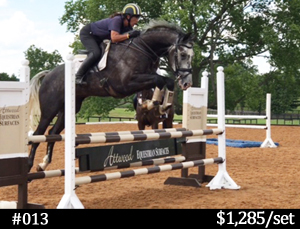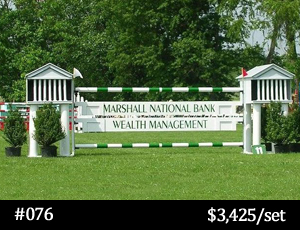 ---
Prices include entire jump set as pictured.
Prices subject to change without notice.