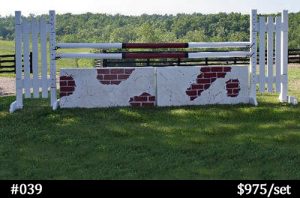 There's nothing more special than building a bond with a horse. For many horse-lovers, this connection begins at an early age. But the horse jumps meant for adults can be too large or intimidating for younger riders, which can subsequently deter kids from pursuing the sport. There are three primary considerations to make before purchasing kids' horse jumps.
Height: First, selecting a jump that's low enough for children wanting to learn and play is essential. Jumps that are too high can potentially scare kids and cause self-doubt before any jumping even begins.
Safety: Next, you should only consider kids' jumps that offer the same safety features as full-sized jumps. This includes standard-sized jump cups that are designed to release quickly and last for years.
Design: Now that you've considered the practical aspects of purchasing a horse jump for your children, it's time to consider the more fun and colorful aspect of your purchase. A wide variety of horse jumps designs exist, meaning there's sure to be the perfect color, pattern, or design to delight your children and enhance their equestrian activities.
Don't hesitate to contact Old Dominion Horse Jump Company with any questions you may have about kids' horse jumps or anything else we offer, including pony jumps, wall caddies, and horse jump walls.