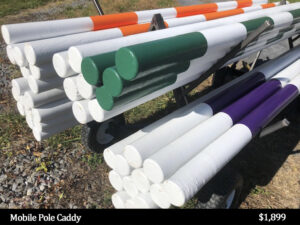 Building an inventory of quality equipment takes time and a commitment to your passion for riding and training horses. Whether you own a large facility that holds significant events or a private barn that trains hunters and jumpers, you will need a collection of standards, rails, and accessories. Although eye-catching jumps provide color and interest to your arena, the small things can make a big difference.
Pole Caddies Make Life Easier
Mobile pole caddies can save you from exhausting work. Most horse jumps never have just one rail, and even hauling two at a time across an arena can be laborious. Put your poles on wheels and make your life easier with a mobile caddy that carries them quickly and easily wherever they're needed. You can change courses, jump heights, and color coordination with a straightforward solution that saves time and your back.
Safe Storage for Rails
When not required, your poles can be stored safely out of the way using pole caddy brackets that keep them organized and off the ground. Wall caddies attach to any fence line or arena wall, so you never have to worry about a horse or person getting injured.
Change how you build your courses and order your mobile pole caddy from the Old Dominion Horse Jump Company.