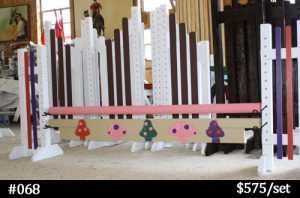 Although a child may ride a seasoned horse or pony, it is essential to remember to modify the jumping exercises to their abilities. Kid's horse jumps are an excellent way to introduce children to stadium jumping while adding some whimsical color and interest to the arena.
Top-quality child-sized horse jumps from a leading supplier are perfect for young riders that want to improve their skills but not feel overwhelmed by intimidating competition-sized jumps. These smaller jumps look like their larger counterparts but come in an incredible variety of custom designs reminiscent of coloring books and cartoons.
Matching the Horse to the Jump
Schooling horse jumps are also available as one size up from the kid's jump dimensions. They are not as large as competition jumps and are ideal for working smaller horse breeds like Morgans or for Welsh and Shetland ponies. These breeds are athletic, intelligent, and perfect for children. By providing jumps more suited to their size, you will help both horse and rider build confidence and develop their skills.
Whether introducing a child to jumping or training for a competition, it is essential to use the right horse jumps for kids. Speak to Old Dominion Horse Jump Company about adding more versatility and designs to your arena inventory.