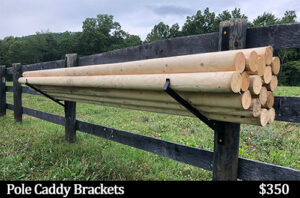 Make your life easier and efficiently organize your course setup with pole caddy brackets that keep everything in order. There is no time to waste during an event, so when you need to make course changes or jump height adjustments, pole caddy brackets are your best friend.
Changes & Storage Are Simple
Installing the brackets at accessible locations around the course can reduce the time it takes to switch jump heights during competition and make life less taxing for the course runners. Changes to the course are simple when the poles are close to the horse jump locations, which prevents excessive downtime between classes. When you are ready to pack up for the day, pole caddy brackets offer a quick and handy place to store the poles until the next time they are required.
Convenience Comes Standard
Just two brackets are needed to hold sixteen or more poles. Depending on the size of the jump, a single bracket set can accommodate the poles necessary for at least two or three jumps. Every equestrian knows how heavy the poles can be, so the closer they are to the jump, the better.
A solid fence or wall and a need for convenience are all you require to keep your arena organized and safe with pole caddy brackets.