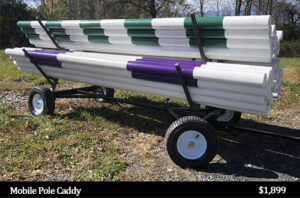 During a competition, there is no time to waste. Horses and riders are waiting, and tensions can be high. As the host location for a stadium event, you need your course changes to be efficient and practical, which is why a mobile pole caddy is an optimal solution. Transporting poles from fence to fence quickly and efficiently is critical to ensuring the show runs on time.
Changes Are Simple
When you are making changes to the course between classes or need to remove obstacles during a jump-off, take advantage of a mobile pole caddy. Fences can be quickly loaded, unloaded, and moved to the side for storage or for use in another class. There is nothing worse for competitors at a horse show than excessive wait times.
Horses and riders get anxious or bored, which can translate into a lack of concentration and poor results. You can help keep your competitors in peak performance by creating an efficient system that ensures everything runs on time.
Speed Up Your Breakdown
At the end of the show, the mobile pole caddy is everyone's best friend. Show organizers are tired, and show jumping equipment is heavy, so a helping hand is a welcome sight for the people that work hard to put on successful events.