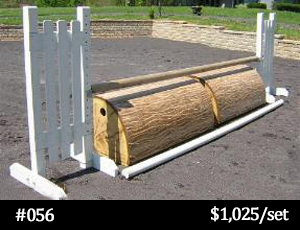 Roll top horse jumps are an essential part of your training routine. Introducing young horses to jumping can be challenging at the best of times; however, when you ease them into the idea with natural-looking obstacles, training can proceed more smoothly.
An Inviting Obstacle
A roll top encourages the horse to approach and clear the obstacle. Because the jump is rounded instead of a straight vertical barrier, your horse is more inclined to attempt the leap. If you think of the roll top as a log or a hedge, it will help you view it as your horse does.
Solid Jumps Built with Quality
Horse equipment supply companies manufacture roll top horse jumps and cover them with materials or colors that make them appear more inviting. Synthetic grass and brown paint are the most common roll tops you will see, although some sport bright colors and patterns. Most often seen on hunter courses, these professionally built and high-quality jumps mimic what your horse might encounter during cross-country events.
Easing into the Air
As a training tool, these jumps allow a horse to gauge distance more accurately. They are solid to the ground and provide a clear base for determining an accurate take-off spot. When introducing a young or inexperienced horse to jumping, the roll top horse jump is an excellent starting point that will help secure a successful future in the arena.