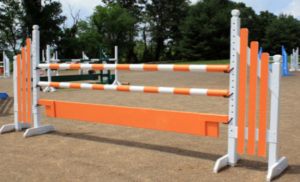 While there can be dozens of different designs and patterns of obstacles in the arena, the wing standard horse jumps is one of the most commonly seen. This jump is an excellent training tool for a young or inexperienced horse because it adds width to the obstacle and encourages the horse to make an effort. The wings extend out from the poles and create a funnel effect that directs the horse on his approach.
Careful Introduction
However, because the standards are quite wide, they can also make the jump seem overwhelming. When introducing your horse to this style of standard, it's best to start at a lower height. This way, they can gradually gain confidence, and as the height increases, they will move on and better throughout the course. With careful training and thoughtful introduction, the wing standard will quickly become commonplace to your horse, and they will likely handle the obstacle without hesitation in competition.
A Wide Range of Styles
Wing standard horse jumps come in a range of styles, but they're often colored vertical planks on a frame. The jumps may be any color you choose, and you can order horse jump accessories like poles and cups to match the standards. The standards always come in a set of two and are an excellent investment for your facility.