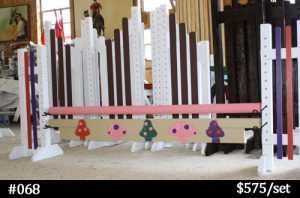 Some riders begin learning at a very early age; it's not unusual for someone to start basic equestrian training as young as five. While people don't attempt jumps immediately, many riders begin in elementary school. Thus, it's important to have kids' horse jumps appropriate for their skill level and age. The following are some factors that go into creating horse jumps for children.
Build: First, although these jumps are for juvenile riders, they must still be built with the same standards as full-sized equipment. That means using high-quality, long-lasting materials and constructing them with great attention to detail. No horse jump equipment for children should look "cheap."
Size: The critical point of kids' horse jumps is their smaller size. No singular size is appropriate; ideally, your arena should have at least a few different sizes so your riders can increase their jump height as they become more skilled and confident. Consider choosing a builder that offers custom sizes and can give you whatever your young learners need.
Design: Finally, many kids' horse jumps come in fun, engaging designs to motivate learners to practice their skills. These design choices range from vibrant colors and unique shapes to entirely themed aesthetics.