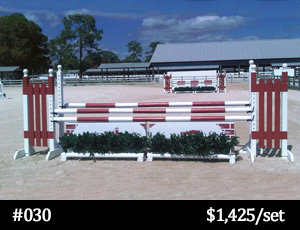 Whether you're training or showing, setting your arena up for success is essential. That means you need the appropriate horse jumps and the right accessories to make your arena a safe, productive space. While some people try to get by with the bare necessities, your horse and riders will have a much better experience if you add some key horse jump accessories to your property. Plus, many of these products also extend the lifetime of your core equipment to ensure you get your money's worth.
To determine whether a specific accessory is worth it, you must assess your particular needs and the product's value. However, the following are some general factors to consider when purchasing horse jump accessories:
Safety: Many accessories are meant to make your arena safer for horses and riders. For example, cups help prevent injuries by ensuring the pole dislodges easily when something strikes it. Since horse jump walls and standards pose inherent risks, anything that can reduce the risk of injury is well worth it.
Comfort: Other accessories are designed to train and show more pleasant overall by streamlining tasks or making the environment more appealing. For example, wall caddies allow you to store and retrieve poles quickly and keep them nicely organized.
Longevity: Finally, some accessories serve to decrease wear and tear on your arena's more expensive equipment. You can reduce your repair and replacement costs by investing in relatively inexpensive products like caddies and cups.