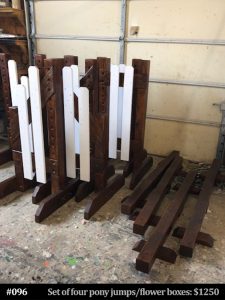 Introducing green horses to new obstacles requires patience, understanding, and tools. When you have equipment that mirrors what your inexperienced horse will see in competition, you can expect better results at the end of the day.
Schooling horse jumps need to be well-made and up to competition standards to expose both horse and rider to the elements they're likely to see at a trial or show. Arena and barn owners know that superior amenities and equipment give horses and riders the best opportunity for ribbons in the ring.
Variety is Key
Quality schooling horse jumps come in various sizes and styles, so you can choose which obstacles you want to include in your collection. The affordability of schooling jumps makes it easy to bolster your equipment with everything from walls to cavalettis. Different colors, designs, and patterns can give your standards and poles a distinctive look. Trainers and owners will appreciate your investment in premium horse jumps to school their horses.
Developing the First-Class Facility
Whether a horse is experienced or just being introduced to obstacles, providing top-tier schooling equipment from a leading supplier will set them up for success. Your arena deserves affordable, topflight equipment that makes it stand out as a first-rate facility.