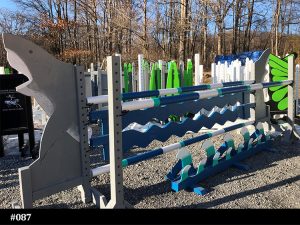 Horse owners and trainers know that their equipment must hold up to the rigors of training and competition. The size of horses makes them damage jumps, even when they don't intend it. Changing courses, moving equipment in and out of the arena, and the weather can also take their toll on jumps, standards, and accessories.
Invest in Equipment
The best way to avoid constant repairs to broken equipment is to purchase top-quality products from a premium supplier. The investment you make in a wing standard horse jump from Old Dominion Horse Jump Company will pay dividends down the road with years of service and minimal upkeep.
Crafted with Quality
When you need to know the horse jump accessories, poles, roll-tops, and standards are what your arena needs, turn to people who know horse equipment better than anyone. When working with horses, it's essential to use quality crafted products made by people who understand the wear and tear the equipment will experience.
Expert Knowledge & Superior Service
Only horse professionals know the pressure wing standard horse jumps are under. They must hold up to over 1000 pounds of horse and rider as they sail over at high speed. Put your trust in best-in-class equipment to perform under every circumstance, whether in competition or training.