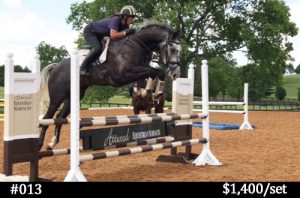 Learning to show jump is one of the most fulfilling skills that you can attain. Getting to know your horse and learning how to move as a single unit is truly thrilling and rewarding. But first, you need to need to start with the basics, and that means using schooling horse jumps. These jumps allow you to start small before working your way up to the standard-size jumps that you may have seen at jumping rings in your area.
Master Your Horse Jumping Skills
Regardless of the skill, you're learning, it's important not to take on more than you can handle. In the case of horse jumping, you have to be extra careful that both you and your horse are ready for the challenges ahead. By using schooling horse jumps, you can rest assured that your training isn't progressing faster than your trusty equine friend can handle safely. It is the safest and most enjoyable way to learn this worthwhile skill.
Contact Old Dominion Horse Jump Company
Old Dominion Horse Jump Company invites you to reach out for more details about schooling horse jumps. We're your source for everything you need to know about horse jumping and more. Our friendly professionals look forward to hearing from you soon.