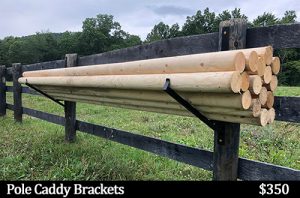 There is nothing better than an afternoon of horse jumping—except for maybe an afternoon of horse jumping in a perfectly organized ring. However, between all of your equipment and jump poles, it can be tricky to keep your ring tidy. That's why you need pole caddy brackets to take your ring to the next level. These brackets are the perfect way to keep all your jump poles elevated from the ground when not in use, thereby protecting them from rot. Additionally, they provide a convenient place to store all your poles when it's time to drag your ring.
Mobile Pole Caddies
When you need a little more flexibility; a mobile pole caddy is a perfect option for you. These caddies are free-standing, meaning you can take them wherever your jumping activities take you.
Contact Old Dominion Horse Jump Company
Don't hesitate to reach out to Old Dominion Horse Jump Company for all the information you need about pole caddy brackets. We can't wait to help enhance your jumping ring.