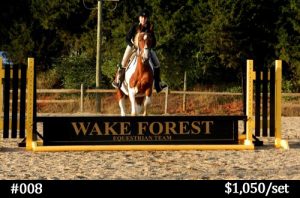 When you've been around the horse jumping world for a while, you may have recognized that many of the jumping rings you visit have the same look and design. It can begin to feel like you're always visiting the same ring. Fortunately, there's an easy way to make your ring stand out from the crowd. Custom horse jump designs from Old Dominion Horse Jump Company can take your ring from good to great. All of your equestrian contacts and friends will want to spend their free time soaring over your unique set of horse jumps.
Add Personality to Your Ring
When it comes to custom horse jump designs, your imagination is the only limit. Whether you are looking for sleek stripes or a simple old-fashioned look; or perhaps you want something even more unique, like your company branding or the logo from your favorite sports team. Regardless of what you have in mind, you'll love owning a set of jumps that will make your ring memorable for years to come.
Contact Old Dominion Horse Jump Company
Call or email Old Dominion Horse Jump Company today for more information about our custom horse jump designs and horse jump standards for sale. We look forward to talking with you about your unique ideas.