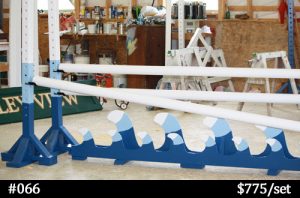 For such a thrilling and adrenaline-pumping sport, horse jumping can sometimes be a little dull. We're only talking about the color palette—not the activity itself. But, it doesn't have to be so monochromatic. By adding colorful horse jumps to your jumping ring, you can take it from dull to dramatic. You can even match the color of your horse jumps to the existing décor of your home, barn, or stable.
Breathe New Life into Your Horse Jumps
Just because horse jumps are only designed to be jumped over doesn't mean that they have to be boring. Instead, think of them as one more way to show off your vibrant personality. Additionally, using these bright and unconventional colors is a fantastic way to get kids excited about the world of horse jumping. Not to mention how impressed all your fellow horse jumpers will be by the new look of your ring.
Contact Old Dominion Horse Jump Company
When you are ready to add some colorful horse jumps to your jumping ring; it's time to contact the equestrian experts at Old Dominion Horse Jump Company. We'll be happy to answer all your questions about any of our equipment for sale, including our custom horse jump designs and colorful horse jumps.