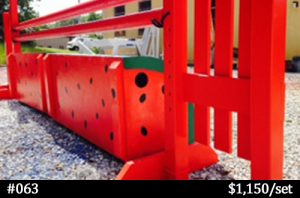 Despite their enormous size and powerful hooves, horses tend to be naturally nervous around any perceived danger—no matter the level of the threat.
Beyond the physical component of equestrian training, horses must also be trained in the school of discipline to keep moving forward and jump as instructed regardless of their natural nerves. Horse jump roll tops are a perfect tool for this training.
Roll tops add an extra layer of difficulty to a jump. Not only must the horse clear the height of the jump but also the width of the roll top's base. While most horses don't consider them to be especially intimidating obstacles, they do command respect, making them a valuable training tool for beginners. Conquering roll tops is an important stage for both riders and horses, and it prepares them for more scary jumps in the future.
In addition to their practical training benefits, horse jump roll tops also beautify your course. You'll appreciate all the different styles of horse jumps for sale in the roll-top category, plus the many available customization options. While roll tops designed to look like grassy hills are popular, they are far from the only design choice. It's easy to find something that coordinates with your course perfectly.