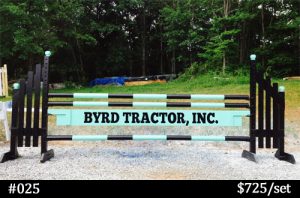 For over 20 years, equestrians of all types have relied on our company for horse jump equipment. It's our focus and our passion, so we work hard to ensure that every product doesn't just meet expectations but exceeds them. Our dedication has earned us a reputation for excellent designs that provide many years of use in the training ring and at competitive events across the nation. The following are some of our most popular kinds of horse jump equipment:
Custom Jumps: Whether you want branded jumps for your company or a setup in your favorite colors, we've got you covered.
Standards: Our horse jump standards are built to last in all conditions with a focus on injury prevention for both the horse and the rider.  By using the best materials and highest quality paints, we achieve this goal.
Poles: Precision doweled from the finest best lumber available, our poles can be any length up to 12 feet, allowing our horse jump equipment company to fulfill virtually any need.
Cups: Our cups combine safety and utility to create a reliable and irreplaceable piece of equipment.
Fillers: Ideal for outdoor or indoor courses, our horse jump fillers are the star of any Hunter or Jumper show. We have an assortment of fillers including walls, saw mill jumps, flower boxes, roll tops, coops, brush boxes and many others.