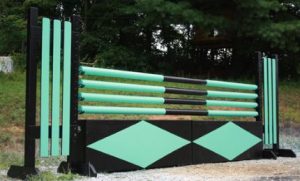 There is something majestic about watching a horse in action. Undoubtedly, almost everyone can agree on, that this is one of the main reasons why it makes equestrian events so popular. This means however, that as the owner of an equestrian, hunter or jumper ring you want something to stand out from the crowd. So how are you able to infuse a little of your own style into your ring? One of the best ways is to purchase unique horse jump walls from a trusted horse jump builder.
Creating a customized course allows you to choose something eye-catching and memorable for both riders as well as audiences. Horse jump walls that are designed with certain textures, shading or appearances, help to bring cohesion to your ring attitude.
When you implement a one-of-a-kind horse jump wall within your ring, you are truly doing something amazing for your barn and the audience you are trying to capture. These horse jump walls take up a lot of visual real estate in your ring, which means they also give you the perfect opportunity to show off what makes your event much better than the alternative. With the perfectly selected horse jump wall, you can make your design dreams into a reality!