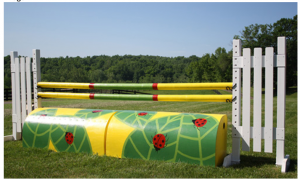 Part of success at equestrian events is making the right impression. When you want to make an impression, or achieve more, consider investing in custom horse jumps. With custom jumps, you can promote your organization or brand, advertise sponsors, or simply match the aesthetics of the event.
Because we offer so many options at Old Dominion Horse Jump Company, anything is possible. Whether you want jumps painted in your school or farm colors or fun designs that young riders will love, we accommodate everyone. Anything is possible, so reach out to our team to discuss your design goal. We'll make it happen.
Furthermore, we build each jump according to your specific needs while always taking into account safety.  All products are designed with care to ensure they look great, work properly, and last for as long as possible.
We use real wood rather than vinyl. Wood is easier to repair when necessary, and you don't have to worry about the poles shattering and lodging vinyl shards into your horses' legs. Also, the wood we use is sturdy but relatively lightweight; this reduces the chance of injuries should there be a fall. Start designing your custom horse jumps today by reaching out to our Old Dominion Jumps Inc.
Achieve more with our custom horse jumps made from #1 grade lumber.  Our full-time design artist is here to help you!