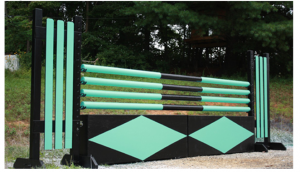 Horses are similar to people in that they all have varied personalities. When you select equestrian training tools like horse jump walls for your ring, you must keep your goals in mind.  Should my wall be a 10' or 12' span? Should you go with a classic stone or brick appearance or something entirely different?  Many different possibilities are available to help you and your horse reach your goals collectively.
At Old Dominion Horse Jump Company, we are pleased to build jump walls to your specifications. We also have a wide range of walls ready to ship for your convenience. These walls range from the faux brick and stone walls often seen at equestrian competitions to bolder, more contemporary styles. We also offer more basic options for those who appreciate simpler designs.
No matter which style you choose, you receive a hand-detailed, one-of-a-kind product. Our full-time artists work hard to ensure that our horse jump walls look great from all perspectives. All of our walls are built using sturdy but lightweight materials. Sturdy so they last and lightweight to help reduce labor demands while working in your ring.  Reach out today for additional details on the wall designs currently in stock.
Find the right horse jump walls for your training or equestrian event by shopping with Old Dominion Horse Jump Company. We sell walls in a variety of styles, all of them hand-detailed.