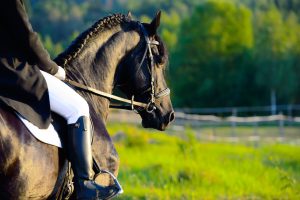 Young riders need smaller sized horse jumps. Old Dominion Horse Jump Company offers many types and styles of kids' horse jumps for sale. Our horse jumps for children meet the same safety and quality standards that apply to every product that leaves our facility. They are also sold with standard sized Dapple Equine Jump Cups, which are known for their easy release and ability to last. All of our jump cups are made from professional-grade steel and are coated with rubber for durability and longevity. We also offer a series of pony jumps, which are suitable for smaller horses and ponies.
Rely on our affordable, high-quality jumps to start your eager young beginner on his or her equestrian journey. We want all of our riders—young and old—to be safe and comfortable when jumping their horses. Our goal is for you or your child to have fun while feeling confident. Take the time to choose the jumps that best suit your needs. It doesn't matter whether those jumps stay the same size for three months or three years.
Contact Old Dominion Horse Jump Company at (540) 987-8412 to find out more about our "Just for Kids" horse jumps. Be sure to ask us about our package discounts and sale items for horse jumps, standards, and poles!