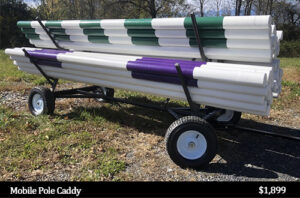 Mobile Jump Caddies offer ease in adjusting jumps, moving jumps around and organizing rings. They are essential for moving equipment around so that you can drag your ring and properly care for the footing. Saving time helps you devote time to your training.
Improved Processes
Most equestrians hook a couple Jump Caddy wagon together with a flat deck wagon so that they can move all combination of jump equipment and fill. This combination makes it easy to move your equipment around or take it in and out of the arena for riding or storage out of the weather.
Making Fast Progress
There is no jack to put down and hookup can easily be done by one person. Simply drop the tongue of the wagon or roll it into place and hook up as many wagons as you need to carry your equipment.
Investing in Equestrian Futures
Whether you need a mobile jump caddy or caddy brackets that attach to the fence or arena wall, you and your students will find their addition to your jump equipment one of the best investments you have ever made.