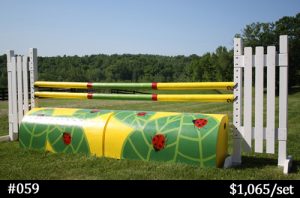 When you're training your horse, it's important to make them experience different levels and types of jumps in order to help them be confident during shows. Teaching your horse not to fear jumps–both short and tall hurdles–will make its performance graceful and seamless; that's why it's important to introduce more challenging obstacles into your training, such as horse jump roll tops.
These daunting horse jumps look bigger and scarier than they are, making them ideal for practice. Old Dominion Horse Jump Company Inc. has experience providing riders with the best equipment to promote the best performance from their horses. Horse jump roll tops will give your horse better aptitude. You can find full roll tops or half rounds to get your horse started; they are made of plywood and painted over with adhesives to ensure their longevity and strength.
Horse jump roll tops are essential for any show; investing in one today will allow you to show the judges what your horse can do. Investing different sets of obstacles will deliver the best results for your show horse and prepare them for every possible obstacle they may face. Contact us today to discuss what other jumps you may want to consider.