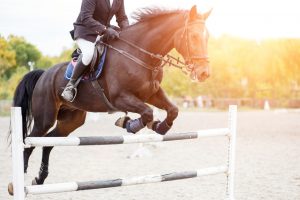 Horse jumps are essential equipment for any equestrian training in Hunter or Jumper Shows. However, with jumps, form is as important as function, especially if you plan to use them in a public display or competition. Not sure which to choose? Here are some questions worth asking before you purchase new or used horse jumps:
Which colors are best-suited for horses? Horses see about the same range of colors as a human with red-green color blindness. This means that they have trouble distinguishing certain colors from other colors in a small spectrum range, according to researcher Jan Spaas, Ph.D., DVM. In a study performed by he and other researchers at the Catholic University of Leuven and Ghent University, research suggested that training with blue jumps could give equestrians an advantage at competitions.
How can I distinguish my jumps from others? Old Dominion Jump Company are happy to customize your jumps with your farm's logo or another image of your choice. It's a good way to set yourself apart from other farms and build your professional image.
What kind of image do I want to cultivate? Sponsors frequently judge farm arenas by the harmony of their color choices on the jumps and standards as well as the level of fillers used to further embellish the courses. Choosing jumps in colors that flatter your competition space can help boost your reputability.