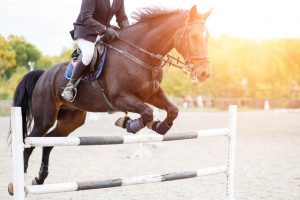 The most popular equestrian events are those with show jumping competition. Since 1907, when the first major show jumping competitions were held in England, a variety of competitions and events have been established to test both the horse and the rider. The show jumping competitions of today have achieved real international acclaim. Show jumping popularity grew exponentially when they became a spectator sport on television. Some of the most popular varieties of equestrian competitions include the following:
Pleasure Classes: This class is mostly focused on the horse, which is judged by how it is to ride and if it is capable of competing. A skittish horse may pose a danger to the rider and others.
Equitation Classes: Here the rider is judged on how she or he handles the horse and if the horse follows the rider's commands appropriately. Dressage is a common kind of riding activity, which involves the rider and horse going through a set of approximately 15 different movements.
Timed Classes: Timed classes typically include cross-country, barrel racing, stadium jumping, and pole bending, depending on whether the competition is an English or Western event. Jumping is one of the most popular categories and includes 12 fences that are set out on a course.
Showmanship Classes: This class is when the rider stands by his or her horse and gives it commands as per show regulations. The task of the rider is to effectively lead the horse to turn around, walk backward, and demonstrate excellent listening skills.
Stock Horse Classes: This class is to demonstrate how well a horse and rider can trot or canter. A perfect score goes to the team that conducts a flawless trot or canter in a certain period of time.
Visit OldDominionJumps.com to see our wide variety of horse show jumps. Contact Old Dominion Horse Jump Company at (540) 987-8412 for more information.