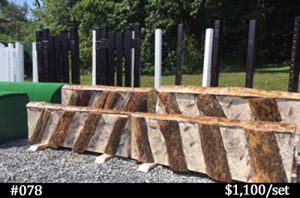 Many children are enthralled by the idea of learning how to ride a horse and perform jumps. However, some become intimidated once they realize what a challenge it can be. Our kids' horse jumps are designed to suit beginner levels and feature fun designs to make the process exciting rather than scary.
The Perfect Size
We custom-build our horse jump walls and other jump equipment, so you always get the perfect size for your young learners. Since full-size jumps are often too large for younger riders—especially those riding small horses and ponies—we designed our kid-size jumps for more excellent safety and more accessible learning. As the child grows and becomes a more accomplished rider, they can transition to full-size jumps. Despite their smaller size, our kids' horse jumps are built to the same exceptional quality standards that Old Dominion Horse Jump Company is known for.
Designed with Kids in Mind
What you'll notice first about our kid-size jumps is their fun designs. While we can create ordinary jumps, we're also pleased to offer colorful imagery that makes children excited to learn. Among our inventory, you find horse jump walls and other equipment painted with polka dots, rainbows, garden scenes, and different charming styles. We can even cut the jumps into unique shapes like fruit and ocean waves. Talk to us to learn about all the customization options available.